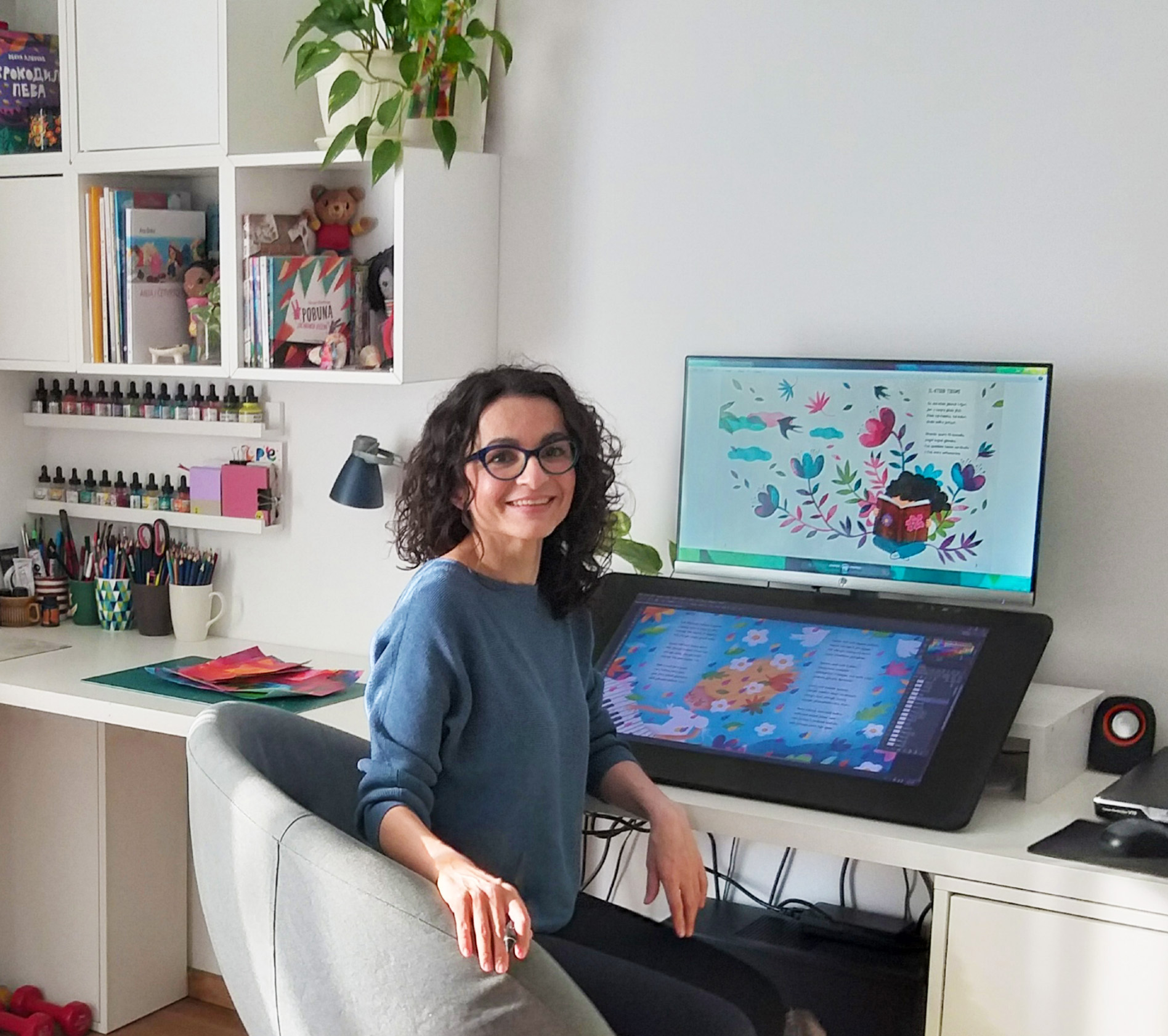 Maja Veselinović
Illustrator
Maja Veselinović lives in Belgrade (Serbia) where she graduated from the Faculty of Design (Graphic Design major). She also has a degree in art teaching from the College of Fine and Applied Arts. Collaborating with numerous publishers, children's festivals, cultural institutions, creative agencies in Serbia and abroad, Maja illustrates books, magazines, posters, textbooks and educational publications intended for children. Her comics and illustrations were featured in many comics anthologies, and specialized art and design publications.
She is also engaged in the field of art education for preschool and school age children through workshops and similar creative activities.
So far, Maja won several domestic and international awards, and had fourteen solo and more than seventy group exhibitions. She is a member of ULUPUDS – The Association of Serbian Applied Artists and Designers with the status of an independent artist.
Maja's works are inspired by memories of childhood and growing up, the atmosphere of carefreeness of those days, by old picture books and toys, by nature in all its forms… but mostly by the beautiful things that are here and now – family, friends, everyday worries and joys.
Clients
Barnes & Noble (USA), D Mind Education (Hong Kong), Midsea Books (Malta), Klett, OMV, Epistola, Argeta, DZS, Minipoliglotini (Slovenia), Kreativna mreža (Croatia), QED Publishing (UK)…
Kreativni centar, RTS nauka, Fabrika knjiga, Pozorište Zvezdarište, Prijatelji dece Srbije, JRJ, Klett, KC Opovo, VIP mobile, BUDI festival, Atelje 212, BIGZ školstvo (Serbia)
Magazines, newspapers, anthologies
PRINT Magazine (SAD), UPPERCASE (Canada), Curvy (Australija), InguineMah!gazine, Internazionale (Italy), Graffiti 76 Quadrinhos (Brasil), Göoo magazin, The Ark Project (Argentina), Stripburger, Madburger (Slovenia), Ženski strip na Balkanu, Zarez, Komikaze, Kvadrat (Hrvatska), Hardcomics (Rumunia), Symposion, Balkan Twilight, Vreme, Elle, Politikin zabavnik, Pančevac, Rez magazin, Kvartal (Serbia)
Awards and Recognitions
Award at the Annual Exhibition of the ULUPUDS Painting and Graphics Section, for work / Portrait of a Year / a series of 12 typographic illustrations for the calendar, Gallery at Princess Ljubica Residence, Belgrade, November 2021.
15. International Biennial of Illustrations – GOLDEN FEATHER OF BELGRADE – special award at Golden Pen of Belgrade for a series of illustrations for the book of stories ANJA AND THE FOURTH PIG (author Ana Đokić, publisher Kreativna Mreža, Zagreb), November, 2019.
NEVEN – Award for the best illustrated book for children, for illustrations of the poetry collection ULJEZI (author Dragana Mladenović, publisher Fabrika knjiga, 2016) The award was established and awarded by the organization Friends of Children of Serbia, Belgrade, October 2017.
THE WHITE RAVENS – for the book Crocodile Sings, by Vesna Aleksić, published by the Kreativni centar, Belgrade, October, 2018.
HORIZONS – Award at the Annual Exhibition of the Painting and Graphics Section of ULUPUDS, for illustrations from the series IN THE CAT'S GARDEN, Progres Gallery, Belgrade, November, 2017.
iJUNGLE Illustration Awards – Special recognition for illustrations from the series IN THE CAT'S GARDEN, International Exhibition of Illustrations, April – November 20h17.
COW Design Festival – Illustration Award, Dnepropetrovsk, Ukraine, October, 2016.
BooKILL Fest – special recognition for illustration, Novi Sad, April 2016.
THE WHITE RAVENS – for the book Koga se tiče kako žive priče, by Dejan Aleksić, published by the Creative Center, Belgrade, October, 2014.
Annual exhibition of the painting and graphic section of ULUPUDS – one of the three equal awards for illustration, Happy Gallery, SKC Belgrade, October 2014.
Exhibition Small Format – First Prize, Belgrade, December, 2010.
Print magazine, The Art of European Design, featured as one of 12 most interesting European illustrators, June 2008.
IX International Biennial of Illustration, Progress Gallery – Honorary Diploma Golden Pen of Belgrade, November, 2007.
II International Comics Salon, SKC, Belgrade – GRAND PRIX Salon, September, 2004.
II International Comics Salon, SKC, Belgrade – Special Jury Award for Comics Innovation, September, 2004.