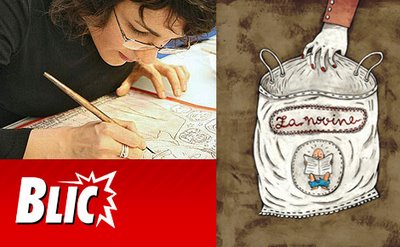 Recently I had the pleasure to tell a few words about all kinds of comics and illustration related stuff, but also to announce my first book. The book will be presented at this year's Comics Showroom in Belgrade.
You can read the article here. The author is Tijana Spasić from the culture section of Blic. Thank you Tijana!
Nedavno sam imala zadovoljstvo da za dnevni list Blic kažem koju na razne stripovsko – ilustratorske teme, ali i da najavim moju prvu knjigu stripova koja će biti predstavljena na ovogodišnjem Salonu stripa.
Kompletan članak pročitajte ovde. Razgovor vodila Tijana Spasić, novinarka redakcije za kulturu. Hvala Tijana!