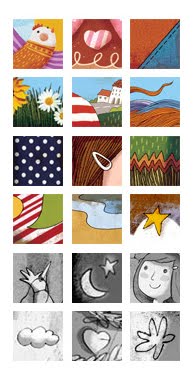 Neke od radova koje sam upravo ubacila na stranu sa ilustracijama za decu već ste imali prilike da vidite ovde, na blogu. Ali neke i niste! Zato izvolite, pogledajte i ako želite javite utiske 🙂
I strana sa biografijom je dopunjena novim informacijama, najviše o izložbama, objavljenim radovima i sl. Razmišljala sam takođe o sređivanju ostalih stranica, prvenstveno prodavnice i linkova…Ali kako uskoro planiram blagi redizajn celog sajta, za sada neka ostane ovako.
E da, stvarno ne znam kako mi je promaklo da javim da sam, negde pred kraj prošle godine, predstavljena na Designed.rs, sjajnom dizajnerskom web portalu, jedinstvenom na našim prostorima. Imala sam čast da se nađem u rubrici High5 i evo kako izgleda moj profil tamo!
A kad smo već kod profila, od nedavno sam napravila jedan i na Behance Networku. Zgodna mreža taj Behance, jedino još nisam sigurna da li je i koliko korisna. Čim saznam javiću!
I just uploaded some new stuff to my childen's book portfolio. You probably already saw some of it published here, on my blog. But some of it I didn't show before. So, here they are, ready for your observation 🙂
The bio page is also updated with some new info, mostly about the exhibitions and publications. I was thinking to make changes on some other sections too, especially shop and friends… But I am going to redesign this place very soon, so until then I'll leave it as it is.
And one more new thing (well, not so new, really don't know how I missed to tell you earlier)… I've been presented recently at Designed.rs – the great and unique web portal dedicated to art and design. My work has been featured at High5 section, an here is how my profile looks!
Oh, and speaking of profiles, I've opened one on Behance Network. Such a lovely place! Hope it will be useful as well.