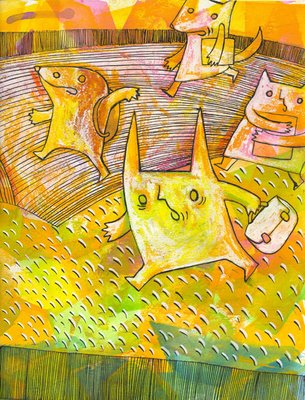 Here is my run theme illustration! I find it suitable for this week's theme, even though it's not the newest one. I've done it few months ago as an initial sketch for a comic. Seams it turned up more than a sketch 🙂 The comic is about a biology teacher, and those kids are her students. They are running because they are late for a biology class…:-)
It's pen, ink, watercolors, white acrylic and oil pastels on aquarelle paper.
Evo ilustracije za ovonedeljni Illustration Fraiday. Iako nije baš nova, mislim da je dobar odgovor na temu. Inače, u pitanju je skica kadra iz stripa o biologičarki, zapravo jedna od početnih ideja. Ova "deca" su njeni đaci, a trče zato što kasne na čas biologije…:-)
Tehnika: tuš, pero, akvarel, akrilik ( bela ) i uljani pastel na akvarel papiru.